To understand A Day Without a Woman, one needs to understand a day with a woman. At Sheltering Arms, a day with a woman is a family service worker helping an immigrant to learn English. A day with a woman is a youth specialist helping a teen to land their first job. A day with a woman is a day of celebration in a school where children present original works of music and dance to honor social justice. A day with a woman is a day of peace in a community that suffered from gun violence for generations. At Sheltering Arms, a day with a woman is a day that our bills get paid, a day that our facilities are maintained, and a day that our technology is upgraded, because women serve in all aspects of running our agency. They represent 71% of our staff of more than 1,000 New Yorkers, as well as many kids and families we serve.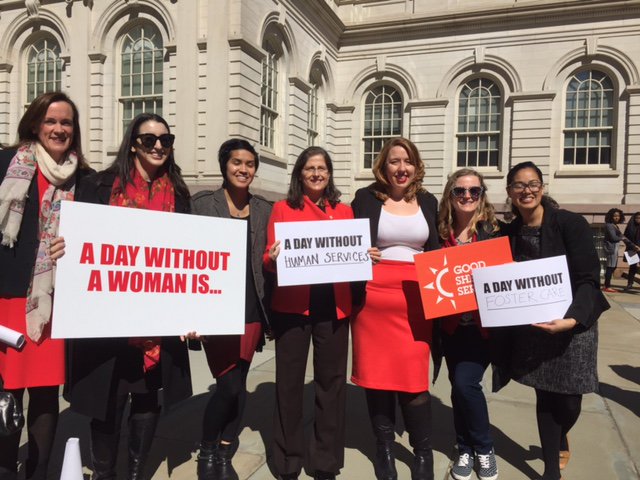 We can do better and we must do better for gender equality if we are to sustain our staff and our sector which strengthen's our great city. We can pay women fairly, give them enough opportunities to succeed, and ease their undue burdens. We ask why anyone accepts a reality where the catalysts of success are paid less than 80 cents on the dollar versus their male counterparts.  We ask why, in an industry that is 80% women, our CEO is often the sole female voice when gathered with colleagues to make policy decisions, since Executive positions are filled with women less than 40% of the time. We ask why women are still bearing an inordinate amount of the responsibility to raise children, care for aging parents, and maintain the household on top of the work they do to earn money to support themselves and their families.
If we're going to change reality, we need to change the conversation. We need to celebrate the unique skillsets of women, not treat them as simply "soft skills." We need to fight for women who are being targeted or marginalized. We need to ask for more than equality; we should expect that our revolutionary work is rewarded in kind.
At Sheltering Arms, we're honored to be reminded of the impact of women every day. As we return to our offices and homes and do the work that leads to the success our society celebrates, let's remind everyone why that success is because of women.